Getting Started:
New York Language Center specializes in English Language education. With more than 30 years of experience, NYLC has gained a reputation for providing high quality education in a friendly and supportive environment at an affordable price. Students may begin their ESL program on any Monday. Join our international family today!
Why NYLC?
Whether you're looking for a rich cultural experience or superior language education, you'll find both in the exciting environment of NYLC. Here are some of the reasons you'll be glad you chose NYLC:
Request More Information
A Wealth of Experience, a Reputation for Excellence
Locations Throughout New York City
Affordable Cost
Convenient Schedules
Certificate You're Proud to Present
Quality Control
Ibrahima FOFANA
Manhattan - Upper West Side
"What amazing experiences in NYLC! the staffs are so helpful and professional. I have improved so quickly my level and I've met new wonderful people from around the world. I appreciated activities that help me to discouver lot of places in New York. I really recommend this school to people who want to learn and enjoy..." view all »
YORMAHMADOV Navruz
Jackson Heights, Queens
"First of all, I want to tell about my experience here in new York language center. NYLC teaching very well. That my English improved to perfect. Yesterday we had a great day with classmates and teacher. My advice for future students that in NYLC the best option to improve English. I miss you all guys. Thank you..." view all »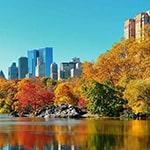 Laura
Manhattan - Upper West Side
"My experience in New York language center was magnificent, you can learn much more than you can imagine"
Silvana Borges
Manhattan - Midtown
"I had a great time in this School. Good teachers, good activities inside and outside, amazing classmates. It was an excellent experience. Come here too! I hope to see you soon. "
Maria Padilla
Manhattan - Upper West Side
"I really recommend this school in New York. When I arrived, I chose it because of it's good prices, but now I can say that it was the best option. I spent 26 weeks and I learned a lot. The teachers are really good, they make the class very very well and I made a lot of friends which help me to practice outside too...." view all »
View More Testimonials