Download Our Student Guide

student app
Mobile app for NYLC students. You can check your schedule, host family details, booking information, attendance, school news, academics and much more. It is recommended to download the App to stay up to date. You will receive your login details from the school team.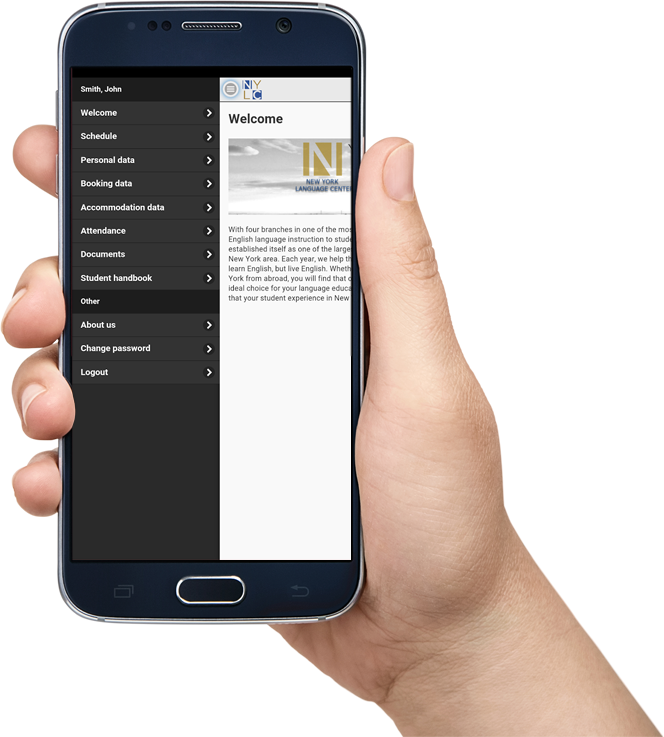 New York Language Center students study English in an exciting multi-cultural atmosphere and meet new friends from all over the world. We offer the international community a challenging English curriculum and the opportunity to experience American culture, all at an affordable cost. We want your time with us to be wonderful. We want you to learn. We want you to improve your English while you enjoy all that our amazing city has to offer. We hope that upon returning to your home country, you will be happy you chose to study English with us. You are important to us and your success and learning is our success. We wish you an unforgettable experience.
All New York Language Center students have the opportunity to participate in a wide variety of cultural and social activities, all led by members of the faculty. The school also offers workshops and tutorial help at no additional cost. New York City is the capital of the world and our activities program reflects this. Our Director of Student Life will help make your time in NY unforgettable. Our Activities Program includes school events, cultural and recreational activities as well as optional weekend excursions outside of New York to places such as Washington D.C., Niagara Falls and Philadelphia. Our Manager of Student Life can help you book excursions to destinations outside of New York.
Meet Camila from Bolivia!
Camila was 18 years old when she came to New York City and left her country without her family for the first time. Listen to her story and see how she built confidence for living in New York City on her own!
Meet Olesia from Ukraine!
Getting to Know Our Students- Meet the lovely Olesia Stefanko from Ukraine!
Meet Marco & Vincenzo from Italy!
Getting to Know Our Students- Marco and Vincenzo studied at NYLC in 2015. They were University buddies in Italy and decided to come to New York for a lifetime experience! Watch their story and hear their
Meet Reina Akiyama from Japan!
Getting to Know Our Students- Reina knew that English is the language of the world and decided that New York City would be the best destination for her to pursue her studies.
Meet Albane from France!
Getting to Know Our Students- Albane was only 19-years old when she first arrived to NYLC to study English. See why she decided that New York was the choice city for her to pursue her dreams!