For F-1 (Student) Visa Application:
To get an F-1 student visa, you will need to enroll in our Intensive English Program (20 hours per week). You will first need an I-20 from an NYLC advisor. The I-20 form allows you to apply for the F-1 visa at the U.S. Consulate in your country. Follow the steps below to begin your application.
Visa Application Process:
1) Fill out the Application For Enrollment Form (provided by your advisor)
Make sure you use your permanent home address
2) Send us a copy of your PASSPORT
Make sure you passport is clear and easy to read
3) Pay INITIAL FEES (via bank transfer/online credit card payment)
$195 Registration Fee
(Optional) $105 I-20 Express Mailing Fee
4) Send us a BANK STATEMENT showing:
$5,500 ( for 0-3 months of study)
$10,500 ( for 3-6 months of study)
$20,000 (for 6-12 months of study)
If you have a sponsor who will cover your expenses, your sponsor will need to fill out the Affidavit of Support form (ask your advisor for this form)
THAT'S IT! YOU ARE ALMOST THERE!
Your I-20 will be sent electronically to you with further instructions about your F-1 visa.
An NYLC advisor will help you!
Please email info@nylanguagecenter.com if you have not yet spoken with us.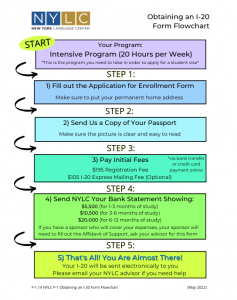 To view/download these instructions as a flowchart, please click the link here.
We hope to welcome you in New York City soon!
F-1 Transfer Students
We offer special prices for F-1 transfer students. Still have questions? See some of our FAQ's or contact us at info@nylanguagecenter.com for more information.
For more information on studying in the U.S. please click link here: